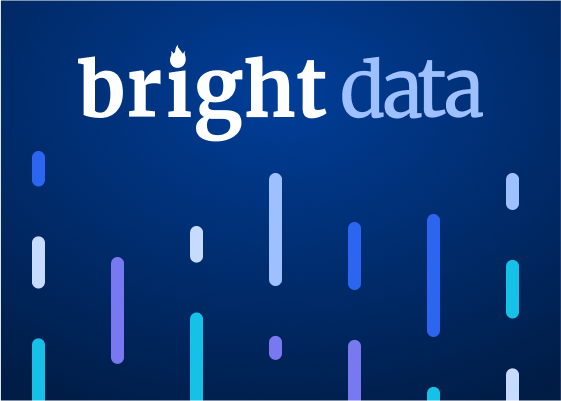 Bright Data
Bright Data is the world's #1 web data platform. Fortune 500 companies, academic institutions, and small businesses rely on Bright Data's solutions to retrieve public web data in the most efficient, reliable, and flexible way to research. With the data provided, they can now monitor and analyze it for better decision-making.
Offer for
Octo Browser users
This offer is valid for Octo Browser users only. Create an account to claim your discount. If you already use Octo Browser, proceed to the partner's website, sign up, and claim your offer.
$250
Bright Data will match the amount of your first deposit, up to a maximum of $250.
Competitive Advantages For Your Success:
Residential Proxy
Target any country, city, zip code, carrier & ASN;
99.99% uptime - extremely stable;
72+ million ethically-sourced residential IPs.
Datacenter Proxy
Largest geographical coverage in the industry;
Best-in-class performance & enterprise-grade scaling;
770,000+ Datacenter IPs;
99.99% network uptime - most stable.
Mobile Proxy
Largest and fastest 3G/4G/5G mobile proxy network;
99.99% network uptime;
Target any country, city, zip code, carrier & ASN.
ISP Proxy
700,000+ fully-compliant static residential (ISP) proxies;
Fastest response time in the industry;
Used by 20K+ businesses & Fortune 500 companies.
Web Scraper IDE
73+ Ready-made JavaScript functions;
38K+ Scrapers built by our customers;
195 Countries with proxy endpoints.
Scraping Browser
Puppeteer compatible;
Automatically adjusts to handle new blocks, CAPTCHA solving, fingerprints, retries, & appears as a real user;
Ideal for scaling.
Web Unlocker
Tackles site-specific browser user agents, cookies, and captcha solving;
Scrape target sites consistently with automated IP address rotation;
24/7 live support staff.
Join Octo Browser now
Create Octo Browser account